April 10, 2021
The hull of Seabourn Venture lands in Genoa for the final outfitting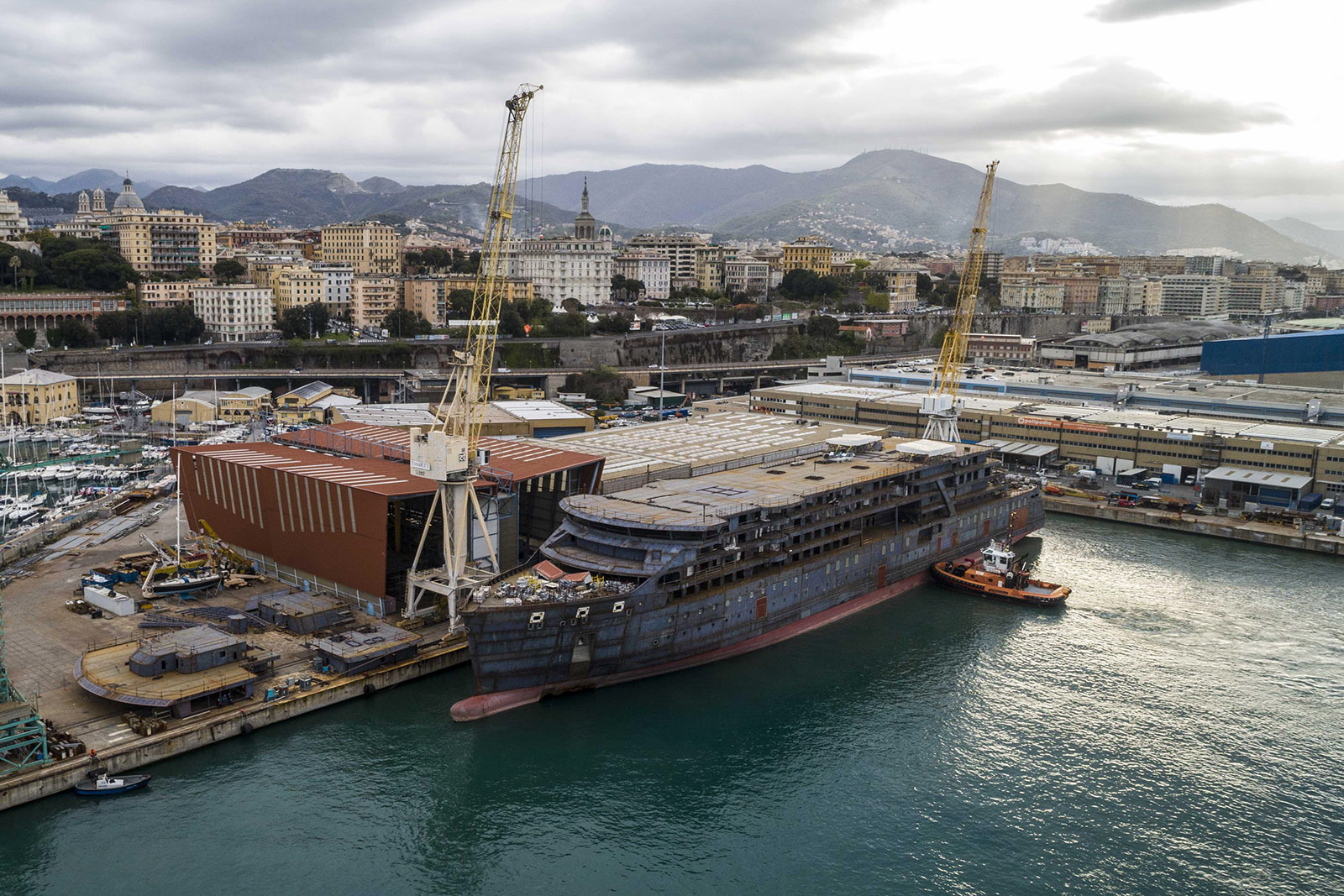 Post tags:
Seabourn Venture , Mariotti
Genoa, April 10th 2021 - Seabourn Venture, the first ultra-luxury expedition ship signed by T.Mariotti, has completed its transfer from Trieste to Genoa, where it will begin the final outfitting phase.
The hull, with its superstructures built up to deck 9 and now visible in their lines, was built at the CIMAR shipyard in San Giorgio di Nogaro, the well-established infrastructure of T. Mariotti and Cimolai. The new ship, after a delicate manoeuvre, was made afloat last March 30th in Trieste and then left for Genoa, where arrived this morning.
A voyage of about 1,200 miles that marked the beginning of a new phase: Seabourn Venture, already equipped with engines, generators and the main equipment of the engine room, will complete the final outfitting phase with the integration of further superstructures, built in Genoa in recent months, and with the installation of the propulsion systems and elegant interiors that will make the ship unique.
"We are proud to welcome the hull of Seabourn Venture, a prestigious order for Mariotti and Genova Industrie Navali Group" - says Marco Bisagno, President of T. Mariotti - "The interest shown by the institutions, which I thank for being here today, comforts us also about the future of the shipbuilding industry in Genoa, a sector that employs many people. We are confident that what is being discussed regarding the possible renewal of the Italian ferry fleet can bring new orders for our shipyards".
"It's important to promote the multi-sectorality of the port of Genoa - says the Vice Minister for Infrastructure and Sustainable Mobility, Alessandro Morelli - Its significant role in the transport of goods is already well known but it's also essential to highlight how the port is vibrant thanks to the shipbuilding industry and the ability to welcome tourists".
Seabourn Venture's hull arrival coincided with the presence in port of two other Seattle-based company's vessels, which arrived in Genoa yesterday morning to be subjected to maintenance activities by T. Mariotti, consolidating and confirming even more the continuous and lasting relationship between the two companies. Both ships were built by T. Mariotti: Seabourn Sojourn in 2010 and Seabourn Quest in 2011, the first fleet's unit to sail the Antarctic seas.
Seabourn Venture, designed and built for diverse environments to PC6 Polar Class standards, will be equipped with a variety of modern hardware and technologies that will increase the ship's capabilities and global reach, including two custom-built submarines offering a unique experience: seeing the world below the ocean's surface. Equipped with 24 zodiacs allowing all guests to go out on excursions at once, Seabourn Venture will also boast 132 oceanfront veranda suites to ensure the best hospitality in whatever weather conditions. Seabourn Cruise represents the pinnacle of ultra-luxury travel with intimate ships and the line's signature elements of spacious suites and unique, elegant furnishings.